Morzine Resort Guide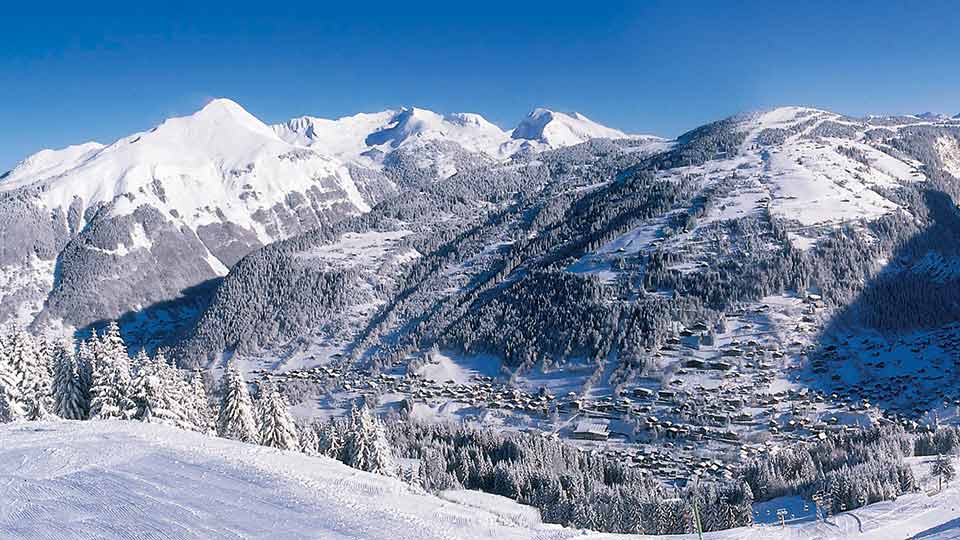 Morzine is one of the most popular ski holidays destination in the Alps. It is one of the resorts of the Portes Du Soleil, arguably the largest linked ski area in the world.
Many people have come to Morzine and eventually decided not to go back. 
Morzine has retained the charm of a mountain village
Discover Morzine and Avoriaz
There are many things to discover about Morzine, and a wealth of information available, both before and during your visit. This can mean to practical information such as the weather and the snow reports. That can be read online or checked via webcam. It can also mean learning some of the history of the area. In order to become familiar with the place you are visiting and to see it in a different way. It is a good idea to learn about the geography of the area. What towns are around, what to look out for in the surrounding area. It is also good to learn about the culture of the area. In particular the local art and the local traditional foods.
Avoriaz, part of Morzine, is the newest resort of the Portes Du Soleil and its development has been key to the area's growth as a centre for alpine sports. It is a modern town, built in the 1960s. It links Morzine and Les Gets to Châtel and the Swiss resorts of the ski area. Avoriaz is mostly a ski and snowboard town and is generally quiet for the rest of the year. As a purpose built resort it is specifically tailored to winter sports.
Getting to Morzine
Morzine is located close to Geneva, the closest international airport. It is unique among most ski resorts in that the transfer time from Geneva to resort is a lot less. From the airport the options to get to resort are - transfer, car rental, bus or taxi. There are a number of transfer companies that regularly go between Geneva and Morzine. They offer a well priced service. The flight usually takes about one and a half hours. The transfer, depending on the time of year and the traffic, usually takes about the same. For those bringing skis/snowboards/bikes out to Morzine it is important to check the small print when booking flights for any extra costs and also inform the transfer company. Another option to get to Morzine is driving. This takes longer - approximately nine hours from Calais. Even though it includes the cost of the highway tolls, it is a good option if you wish to have your car with you. This way, you can drive to the slopes, visit other resorts or be able to visit the supermarket. The proximity of Cluses and Thonon also means that the train is an option. From these stations it is possible to either book a taxi or get one of the regular buses up to resort.
Staying in Morzine
There are plenty of different options for holiday makers in Morzine and something to suit everyone. There are different types of accommodation which include self catered chalets, catered chalets, hotels and apartments. If people choose self catered then they can always visit one of the many local restaurants. There are many different options, from Pizzas and Burgers to local specialities such as Fondue and Raclette. Once in Morzine there are a few options to get around town. If you are in the centre you can walk around town easily. To get further, such as to Prodains or Ardent, there is a regular, free, bus service. There are numerous car parks if you want to bring your car with you. There are also a few taxi services if people wish to use these after the bus has finished in the evening. The main holiday activities that bring people to Morzine are Skiing and Snowboarding in winter and Mountain Biking and Hiking in Summer. As these activities (with the possible exception of hiking) are largely seasonal there are quiet times during the year for tourism. There is also a contrast between the types of tourists depending on whether it is winter or summer.
Morzine is not just a ski resort
When you visit a ski resort a great thing to do, is check out everything it can offer. Sometimes young kids cannot ski all day, and you may want a day off the mountain to rest your legs. You may also want to find some child friendly après activities.
Even though Morzine is located in one of the world's largest ski areas, there are many other things to do other than ski and snowboard.
See Morzine From The Sky
Morzine is a very popular destination for paragliding, and it is something everyone should experience during a visit to the French Alps. Several companies provide scenic tandem paragliding flights in Morzine. During a tandem flight, your pilot does all the hard work as you soar over the valley. This experience is actually quite relaxing unless you want your pilot to pull some gravity defying manoeuvres for extra excitement.
Another way to see the Alps from the sky is on a scenic helicopter flight. A 20-minute flight from Morzine will get you up close and personal with Mont Blanc and some of the most incredible views in the world. It may seem extravagant, but you would be surprised how affordable it is, especially when you share your flight with friends.
Snowshoeing
Snowshoeing is a great way to see the forests and mountains around Morzine at a much more sedate pace. This is something anyone can do, as the varied terrain means you can choose a route that suits your fitness level. Morzine is perfect for trying it out for the first time.
You can hire your snowshoe equipment and follow one of the marked routes, or book a guide that will take you to areas with the best views and where to find local wildlife.
Morzine For Animal Lovers
If you want to experience Morzine with a little less effort involved, there are a few excellent options for animal lovers. Take a horse and cart ride around Morzine or Avoriaz to take in the mountain atmosphere while you sit back and relax. Alternatively, put your skis back on and let a horse pull you along while ski joering. Ski joering is a fun experience suitable for kids and adults.
Alternatively, you can drive your own team of huskies around the forests surrounding Morzine. A couple of companies in Morzine provide this service for an incredible experience suitable for all ages. 
Activities Available In The Village
There are many activities to do in the village itself. These include ice skating, watching the local ice hockey team play, and visiting the indoor swimming pool and spa. The tourist office often puts on extra events to entertain visitors, from kids activities to torchlit descents by local ski instructors on the Pleney side of the valley.
Summer in Morzine
There is a saying among the Morzine locals, come for the winter, stay for the summer. With its sunny days, mild temperatures and even more things to do, summer in Morzine is becoming a top-rated holiday destination and a fantastic alternative to the traditional beach holiday. The mountains are an amazing playground, and the ones around Morzine can still be accessed via the lift ski system during the summer. This makes it very easy to explore them either on foot or by bike.
The Morzine tourist office put on more family-friendly activities throughout summer. But Morzine plays host to huge events too. Harley Days, Spartan Race, and the Mont Blanc Rally to name just a few. But neighbouring Les Gets is the venue for the UCI Mountain Bike World Cup. Along with the Pass'Portes du Soleil event and world-class trails, there is plenty to keep mountain bikers entertained.
For a more relaxed experience, why not sit on the banks of the gorgeous Lac du Montriond? Here you can soak up the sun, go paddleboarding and swimming.
Who should come to Morzine France? 
The diverse nature of Morzine makes it suitable for anyone. Its vibrant après and nightlife scene makes Morzine perfect for groups, while its layout and accommodation options make it very family-friendly.
No matter what your ability on snow is, Morzine and its surrounding areas have you covered. For example, the nursery and beginner slopes around Pleney are perfect for learning your first turns. Intermediate skiers and snowboarders will love the fact that they can cover a lot of ground and enjoy slopes on both sides of the French-Swiss border. More advanced skiers and snowboarders will find challenging pistes, epic off-piste and world-class snow parks all around Les Portes du Soleil. By booking a session with one of the local guides or instructors, you will be able to unlock the area's full potential.
Morzine, France, is in a perfect location for exploring
Morzine is a great base to see other areas, thanks to its excellent location. Whether you visit Morzine in the winter or summer, you are well-positioned for exploring, especially if you have a car. Here are some places you should visit during your stay.
Chamonix
Chamonix is just over an hour's drive from Morzine. This iconic destination is home to big mountain landscapes, glaciers and of course, Mont Blanc. A day trip to Chamonix allows you to do some excellent shopping or to take a ride up to the Aiguille du Midi cable car. From the top, you get spectacular views of the breathtaking Mur de Glace and Mont Blanc.
Annecy
Known as the Venice of the Alps, Annecy is about an hour and a half drive from Morzine. Here you can enjoy the pretty town on the banks of the famous lake. It is full of great places to eat and big-name shops to flex your credit cards in.
Lac Leman
Lac Leman is also known as Lake Geneva, and it has many possibilities, depending on how far you are willing to travel. For example, during the summer you can have an afternoon on the beach, just thirty minutes away from Morzine. Alternatively, take a boat ride from Evian to Lausanne, or time your visit for the Montreaux Jazz festival.
Other pages you might like