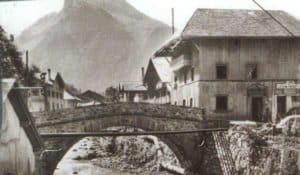 Photo @morzineofficeil
Morzine came from the Latin word "Morgenes", meaning "border area", and was first mentioned in history books in 1181. It was inhabited by monks who worked the land to provide for the Monastic grange of the Cistercian Monastery of Saint-Jean-d'Aulps.
In 1531, the village of Saint-Jean d'Aulps gained independence from the Cistercian Monastery and, for the next 300 years, flourished as a tranquil farming town that was the centre of agriculture.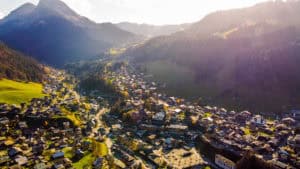 Then, in 1900, as technology had evolved, the main export of Morzine turned to slate and saw the revolution of Les Ardoisières (Slate mines). Nearly two hundred slate workers mainly worked in these quarries from November to May. Today, the extracted slate is still admired on chalet roofs.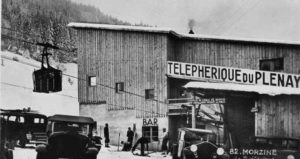 During the 1920s, the main street of the Morzine, the current Route de la Plagne, was used as a ski slope. Skis were just planks of wood, which laces were used to strap your feet to. Ski lifts had yet to be invented.
The construction of the Pleney cable car had begun two years earlier, in 1934 and was put into service in December. Winter sports were growing in popularity, so more ski lifts began to pop up in Morzine. The Super-Morzine lift was built and operating by 1953 but was stopped in 1964 due to a fire. Nyon cable car was launched in 1960, and the Prodains cable car, which linked Morzine to Avoriaz, in 1961.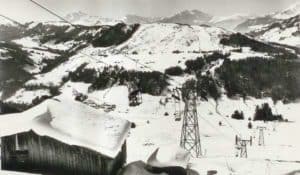 First Super Morzine Gondola – Source @morzineofficiel
Since then, the hotel industry has grown enormously, as the resort has appealed to both French and foreign tourists. Now to this day, Morzine- Avoriaz has become and still is one of the most popular ski resorts in the French Alps, welcoming winter sports enthusiasts from all over the world.