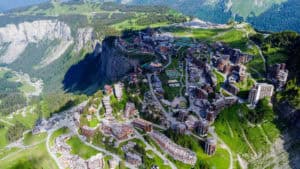 The towering buildings of Avoriaz, perched on the edge of an 1800m cliff, are a memorable sight for everyone who visits. These unique buildings can be seen gazing down on Morzine in the depths of the valley below.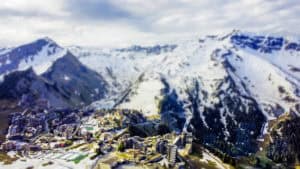 But it's hard to believe that Avoriaz was just a meadow for grazing before three young architects transformed it into one of the most avant-garde resorts in the French Alps.
Many moons ago, the pasture on which the resort now stands once belonged to a wealthy Chablais family, the Earls of Rovorée. The name Avoriaz derives from their surname Rovorée, which over time became 'Avorée', then 'Avoréaz', and today what we now call it 'Avoriaz'.

Three young architects, Jacques Labro, Gerard Brémond and Jean Vuarnet were given the creative freedom to build the ski resort of their dreams, and Avoriaz exists as a result!
The unique, soaring wooden buildings are now home to locals and house holidaymakers in their masses during the winter season. The resort is also inaccessible during the snowy months, and transport is commonly a horse and cart.
We love the quirky town on the top of the hill and can't wait for the winter season to kick off!